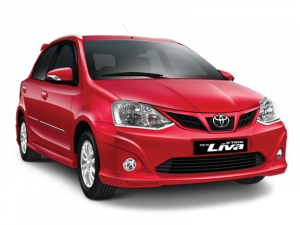 Manufacturer: Toyota Etios
Body Type: Mid-size Sedan
Seats Capacity: 4 + 1 Driver
Boot Space: 1 Large/2 Normal Size
Features: Music System
| Vehicle Name | Day Rent (Plains) | Per KM Charge (Plains) | Day Rent (Hills) | Per KM Charge (Hills) | Flat Charge (Per KM) | Driver Beta |
| --- | --- | --- | --- | --- | --- | --- |
| Toyota Etios | Rs 1400 | Rs 9.00 | Rs 1600 | Rs 10.00 | Rs 13.00 | Rs 400 |
General Information
All prices are in Indian Rupees.
All services will be provided by Chauffeur driven Cars/Coaches only.
The mileage and time is determined from garage to garage i.e. the time vehicle leaves our premises for the assignment till it returns back after completing the assignment.
The customer has to sign the duty slip, and the same to be handed over to the driver while leaving the transport.
The Photographs shown are for illustrative purposes Only.
Disputes, if any, shall be subject to Coimbatore, Tamil Nadu (India) Jurisdiction only.
The prices charged are for the specified services only, any extra services availed will be charged extra.
Price Excludes
All Taxes, interstate route permit changes, parking, toll charges, night halt charges & any other charges that applies